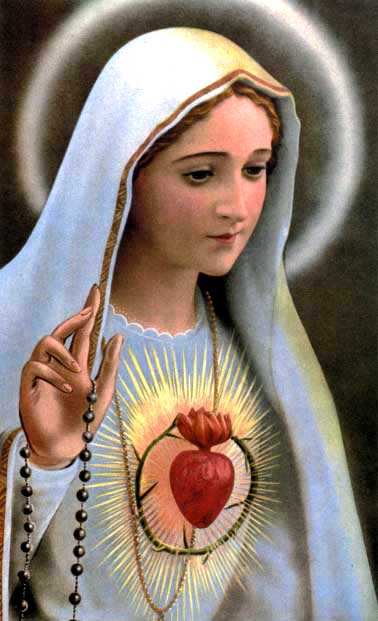 4. The Terrorist Attacks
Print This Post
Mary
The road ahead will be very dark and many voices will be raised that will only bring about confusion. Such is the darkness of which I have spoken so often.
The greatest problem of terrorism is the fear and panic which it causes. People's lives are jolted. Hundreds of changes are introduced. A mentality of siege sets in. Vast resources are spent on security. Trust breaks down. Sources of revenue dry up. Economies shrink. Investment capital no longer sustains growth. All of these effects will be seen quickly.
Because I foresaw these moments so clearly, I began to speak four years ago. I had to become a trusted voice, a familiar voice. People had to grow accustomed to this new and important help from heaven. Yes, I am speaking from heaven through this faithful messenger.
The words will change now. No longer will I speak of future events because the events have begun, just as I so accurately predicted. 2015 is the year of the beginning events. The year had just about opened, when suddenly all of these surprise attacks. What I foresaw, was recorded for all to see. The Middle East fires of terrorism have leaped over into Europe where they will find so much more fuel.
The course of these events is not at all determined. They are not imposed by heaven. They come from below, from human hearts and human decisions. The events are the harvest of evil seeds, planted and nourished. Heaven wants to help, to guide, to enlighten, and to calm down these fires. But who turns to me? The religious spirit of Europe has been sacrificed on the altar of secularism. You are like the Prodigal who took his money and left his Father's house. Return to me. I have never abandoned you.
Comment: Read the past locutions. Our Lady has spoken clearly about these 2015 events in Europe.
3. The Day of Notre Dame
Mary
Just as no one can prevent the sun from rising, so no one can prevent these events from spilling forth. The evil is too deeply imbedded, the hatred is too extensive and man retains his free will. Yet, I speak with great hope even in the face of the inevitable outpouring of evil. What has been the response to these events which have already begun in Europe?
Various emotions are expressed, but are voices raised which point out that these countries have turned away from me? Are the people saying, "Let us turn to Our Lady, our Notre Dame (French for
Our Lady
), for she will protect us? This is what is missing.
In the Ages of Faith, there would be processions, not marches. The Churches, not the streets, would be filled. I promise that, as the events go on, the people will look for me and find the true source of living water which is needed to extinguish these fires and to deal with their consequences.
The answers to these coming events do not lie in the heart of man but in the heart of the Woman. This is why I speak now and why my words must go forth to all the world. A new enlightenment will dawn. A new day will begin, a day of Notre Dame, when evil events cause the Churches to be filled and all find refuge in my heart.
Comment: Our Lady foresees a great good coming from terrorist attacks. People will realize that they must return to religious faith.
2. The Faithful Messenger
Print This Post
Mary
The world is entering into the white heat of the fire. Unfortunately, it is not my white heat which would set the world free. By these terrorist actions a new slavery is being released. Limits will be placed on freedoms. Security walls will be raised. Terrorists strike one part of society but the tremors go everywhere. O humanity, this is the road of your future. How I weep. So much destruction lay ahead. The great sorrows of my heart. Consuming fires everywhere. Total confusion and helplessness. All that I can do now is speak, before all of this occurs, so that when the events happen people will know that I have been on the scene from the beginning.
I must attract the whole world to these locutions. I must win everyone's heart. In the midst of the darkness, this tiny light will open out to another fire and the greatest of protections. So, let me speak quite clearly.
Each day the messenger of these locutions comes before me and allows me to share the secrets of my heart. How I welcome this messenger, so ever faithful, and this opportunity to speak to the world. These locutions are not just words. They contain the power of my Immaculate Heart. I promise that there will be a different white heat, coming from a different fire, far more powerful that the fires of destruction which you now experience.
The powerful sun at Fatima (October 13, 1917) is meant as a symbol and a sign. The sign and wonder of that sun is still alive and effective. Read the story. Let it be a sign to the whole world. What other creature could tell the sun to dance? What other creature could tell the sun to hurtle toward earth so that everything would dry up immediately? I promised this sign to the three children because they were faithful messengers. The messenger of these locutions is also faithful and I will not hold back other divine signs.
Comment: Our Lady wants us to know that Fatima is a powerful force, today more than ever before.
1. New York and Washington
Print This Post
Mary
When the events begin and the darkness grows, the way will not be clear. Many voices will be raised, all claiming wisdom. However, they will be no match for the intelligence of the Evil One who has orchestrated his symphony of destruction and cruelty. This is mankind's future. Even now, the future can be detected in its growing outlines.
Before that happens, I must establish my voice as a true source of light. I cannot come onto the scene at the last moment and expect people to believe instantly. That is why I began these locutions years ago. Gradually, their light has gone forth and found hearts to accept them. Therefore, I can speak simply to hearts that believe. Let us begin.
At this very hour, the world is awakening to the terrorist threats. They have not receded. They have not been destroyed (as some claimed). They have grown. In their sophisticated approaches, they have become equals to the West. They know what is still lacking and what they need to totally disrupt life. They see new and great victories on the horizon. I have spoken earlier and clearly that it was already too late to stop them. The American withdrawal has allowed them to survive. I spoke quite clearly of Syria and its fires that would not be quickly extinguished and would be the fuse that would ignite explosions elsewhere.
Now that everyone can see the wisdom in my words, what can I say? I can only speak the truth, as difficult as that is. I did not cause this situation but I must faithfully describe it.
The events will move quickly. The road contains no obstacles. The West will put up a 100 obstacles, but the terrorists will just take another road (as they laugh at the West's futility). They have studied you. They know your defenses. They have plotted well. Their master plan is in place. Their goal is New York (the great symbol of American life) and bringing Washington to its knees. They will skip other goals, feeling they always can return to them. They know that when they show their power in America, all the Muslim terrorist world will rejoice and they will enjoy the spoils of victory.
Comment: How sad Our Lady must be to describe these events. Our Lady seems to be saying that the terrorist's goal is to attack New York. Washington will be humbled by its inability to protect this country. Satan has already weakened the spirit of the New York police force.
6. Stretched Resources Until the Breakthrough
Print This Post
Mary
At first, the road is narrow and affects just a few. Then it widens and more are drawn into the evil. Not encountering any resistance, evil gladly widens its scope, enjoying victories that it never thought possible.
Such is the wave of terrorism that now sweeps across the earth. The tiny cells have multiplied and learned how to thrive. They have mastered new techniques to avoid detection. They are no longer the unsophisticated terror groups raised up by Bin Laden. Instead, they pose a serious threat even to the sophisticated Western intelligence systems.
The war will be a long one. They will not be easily defeated nor even detected until, at times, it is too late. Casualties will mount and the costs of security will skyrocket, placing new strains upon the economies. Everything is being stretched, just as I have said. Stretched and stretched and stretched until the breakthroughs occur. The leaks begin, followed by the floods.
Does no one see the demonic intelligence behind all these events? Human solutions will fail. Walls of human protection will fall. As the events take place, the words of these locutions will be exalted as a true light, dawning slowly but soon becoming like the noonday sun. When the whole world is bathed in my light, people will see the decisions they must take, slowly at first but then quickly. The time is short. The Fatima anniversary is not far away.
Comment: Our Lady describes the future path of terrorism and the economic costs to fight its spread.